The Lakes Flying Company Limited, a registered charity, has been set up to celebrate and to inform the public concerning the importance of the pioneering contribution made to the development of naval and civil marine aeroplanes by Captain Edward William Wakefield and of Waterbird at Windermere.
Waterbird was the first aeroplane to successfully take off from and alight on water in the British Empire (more precisely, the first outside France and the USA), on 25 November 1911.
It was the world's first successful flight to use a stepped float.
Windermere: birthplace of British naval and civil marine aeroplanes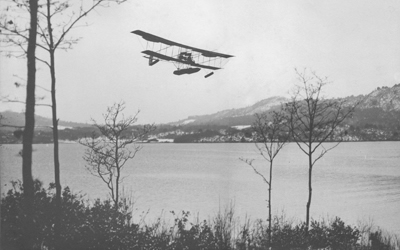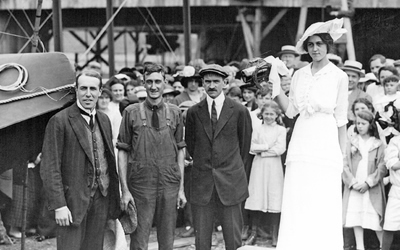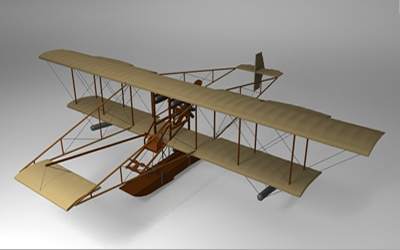 The charitable objects of the Lakes Flying Company Limited are to advance the education of the public, including by:-
The establishment and maintenance of a heritage centre that will tell the story of early powered seaplanes with the emphasis on the history of their early development and their activities in and around Windermere and the Lake District;
The construction, displays and flights of an airworthy replica of Waterbird;
Exhibiting the replica of Waterbird in perpetuity;
Providing historical and technical information regarding the historical context and design of Waterbird.
We have established an Adopt a Part Scheme, full details of which are here
You can view a photo of the replica build so far here
You can view information on the Waterbird float here
'The combined efforts of designers, aviators, ship and boat builders-turned aircraft manufacturers at Barrow and Windermere during 1908 – 1914 justify the area's claim to be the birthplace of British naval and civil marine aviation.' – Triplane to Typhoon by James H Longworth.
'The great tradition of innovation and successfully overcoming the severe and unique difficulties of operating aircraft on water all stemmed back to Waterbird and the pioneering designs and spirit that she represented.' – Navy Wings
'Edward Wakefield's ideas were scorned, but he never lost faith in the hydro-aeroplane and Waterbird was a successful expression of that faith.' – Historic Military Aircraft by J M Bruce.
The Lakes Flying Company Limited is a registered charity no.1138624
and a company limited by guarantee incorporated in England no.6836348.
5 Thurnham Street, Aalborg Square, Lancaster, Lancashire, LA1 1XU
© Copyright 2013 The Lakes Flying Company Limited
Website by mullin.co.uk